The DIY Landscape Has Changed, but the Vision Remains the Same
This story was originally published in SSENSE magazine and was written and produced by FM Belowground project director Arthur Bray. Check out the full story here.
Words: Arthur Bray
Photography: Arthur Bray, Simky Cheung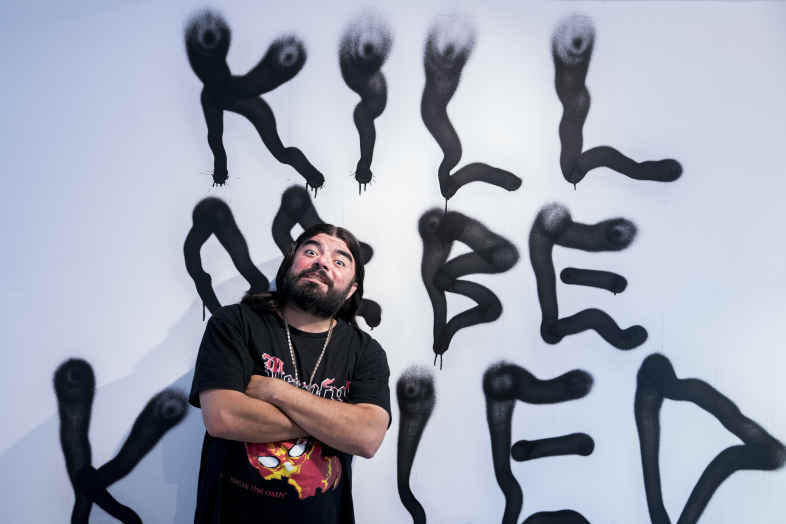 "A WASTED DAY IS A DAY NOT WASTED" is written above a painting of a diabolical creature on a bar stool next to its drunk accomplice. We're in the air conditioned gallery of Lucie Chang Fine Arts, and Neck Face is battling jet lag. "If I'm laughing then I'm doing good, and I keep drawing," says Neck Face as he takes a sip of Ribena and soda. The 34-year-old artist and owner of infamous Hollywood skate haunt, Black Bar, is taking a break from alcohol, at least while he's in Hong Kong for his art show, KILL OR BE KILLED.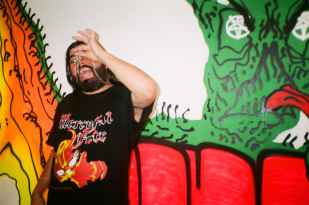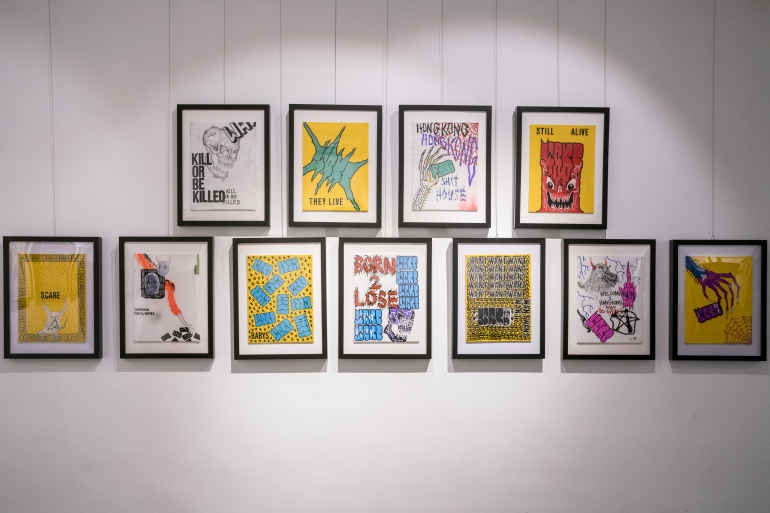 It's hard to deny the profane genius of Neck Face, whose style covers rooftops from Brooklyn to Shibuya as well as the pristine walls of MOCA. His signature has sprouted its own genre of copycats that imitate his "perfectly ugly" approach. When he speaks, his eyes light up and a mischievous smirk suggests trouble, but also exudes warmth. Like his illustrations (that feature demons pumped with testosterone, akin to an intoxicated Ray Harryhausen freak show), the artist is articulate, with a knack for one-liners that also make for amusing captions.
Hailing from the small California town of Stockton, Neck Face moved to New York in 2002 for art school, but soon dropped out. New York was his playground. He ran wild and visited all the skate spots he knew from Thrasher Magazine DVDs, skating all day and painting all night. "I was just running around writing on walls and not knowing what people thought, because I didn't know anybody." His obsessive personality meant that his demons started appearing all over the city—eyes bloodshot, arms stretched and tongues extended. It also led him to the downtown bar scene. Max Fish was his second home, the claw machine where you would find him. "I used to spend $1,500 a year on the machine. I'd use all my money, then go across the street to the ATM, take more money out just to win more toys, then walk around the block and sell the toys for one dollar each just so I can go back and play again." He added, "I'd clear the machine out 10 times. It became me against the guy who was filling the claw machine with stuffed animals. But I'd never take any of the shitty stuffed animals back home."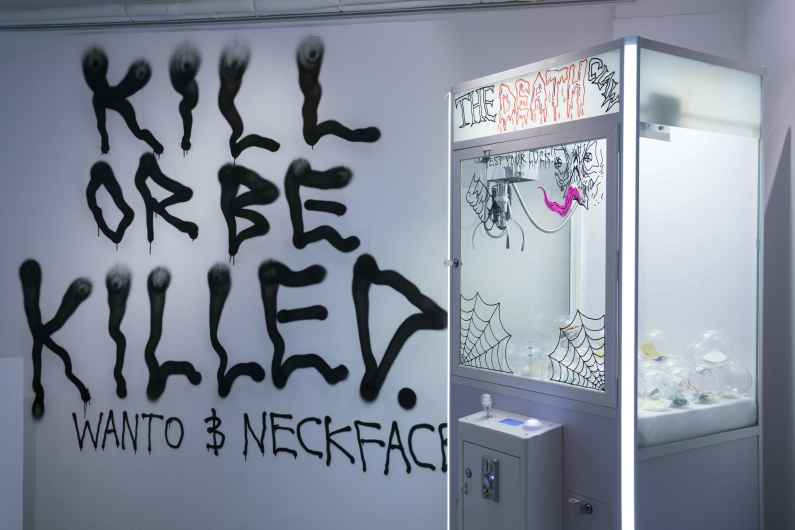 Citing Max Fish as his "office," Neck Face made many of his close friends and collaborators at the dive. "If you hung out there long enough, shit happened." As it did for him in 2003 when his friends at Supreme put him forward for a collaboration with the revered streetwear imprint. The Neck Face x Supreme "ILL NAIL JOB" t-shirt retailed at $28 and now holds a resale value upwards of $300. The collaboration was followed up by board graphics for Mark Gonzales' Krooked Skateboards, Vans, and Thrasher.
Finding it uncomfortable to be called a "designer," Neck Face chooses his clients carefully. "You got to learn how to spread yourself out but not too thin," he notes. He also runs things past his good friend and fanzine collaborator, Weirdo Dave. "I have an idea on who to work with, but I like to double check with the homies." Today, Neck Face is the unofficial art director of Baker Skateboards. He and Baker's founder Andrew Reynolds have a relaxed agreement. There are no deadlines or specific workloads, and doodles are drawn at the expense of a bar tab and turned into a board series. "There's no pressure, but I also want to create rad experiences, not just cartoons." The curation of his annual Halloween haunted house constitutes such an experience. He repeatedly breaks the boundaries of acceptable, going as far as trimming his own hair and glueing it onto dummies. "Selling stuff is always good, but the experience you take home is worth more than anything you can buy," he says. "It tattoos the brain."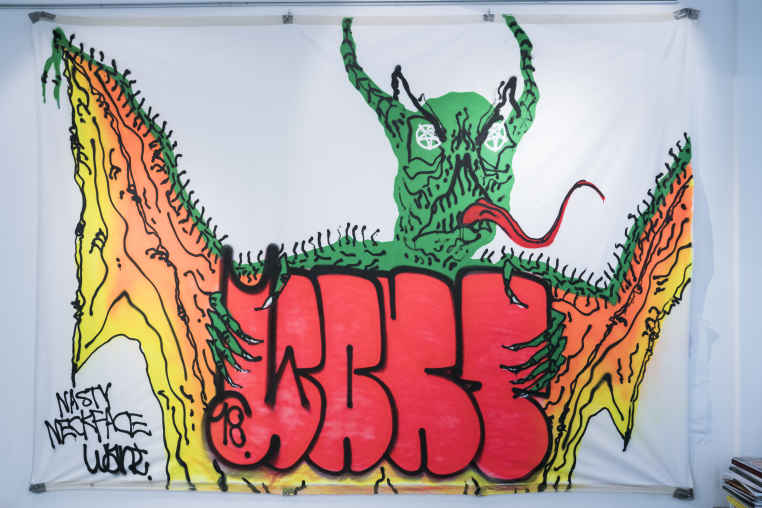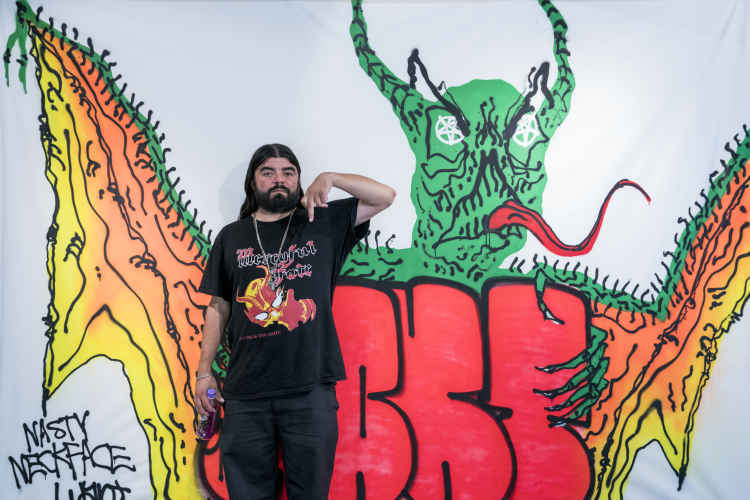 In 2018, DIY culture has exploded in a lateral way, with Kendall and Kylie Jenner ripping off vintage band t-shirts in favor of narcissistic selfies, and Virgil Abloh's Pyrex-to-Paris career bridging the gap between street fashion and runway. The advent of social media means lifestyles have become portfolios. Beyond the self-indulgent profiles of today's so-called influencers there is a new breed of do-it-yourselfers who use Instagram to turn ideas into reality. Today's DIY culture may be practiced differently, yet the core values are unchanged. "These days DIY is less to do with counter-culture than it is to do with persisting with an idea," says Neck Face. "This opens up the playing field, so everyone's a designer or artist, but this also means the system will filter itself out." In an era when Zumiez sells skate socks printed with flame emojis, an artist's street cred is the measure of his longevity.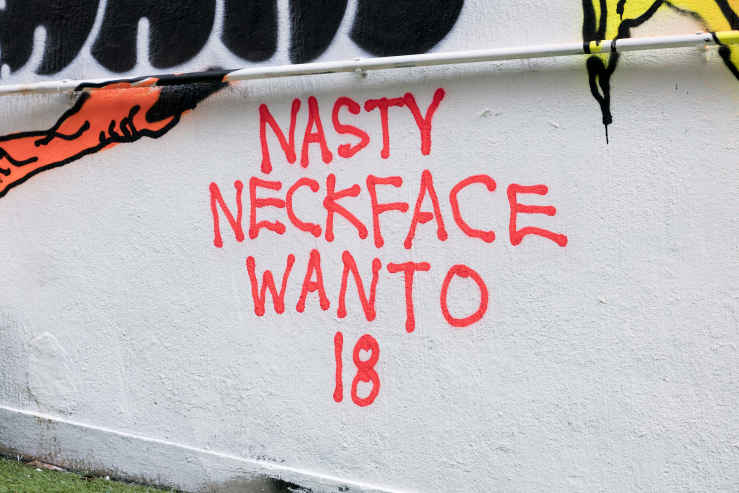 Standing at the intersection of art, skateboarding and fashion, Neck Face's artistic drive sets him apart from other do-it-all creatives. Unlike the rest, monetary success and any sort of social chivalry have always been peripheral, an attitude that gives him the autonomy to create freely.
"I've been broke in New York. I promised myself from the start that whether or not there's money involved, I'll do this forever," Neck Face asserts. Having returned to California, Neck Face has spent the last 10 years in Los Angeles and leads a more laid-back life, resolute in his practice, unwavering in his artistic vision. "Who knows where things will go," the artist pauses to finish his Ribena soda. He looks around at the satanic creatures he's invented, all fitted into frames and ready to be sold to die-hard fans. "But for now, it's us versus them. Kill or be killed."
Arthur Bray specializes in stories about fashion and music. He's the former Managing Editor at HYPEBEAST and currently Editor-At-Large at Crepe City Magazine. His work has also appeared in 032c, FACT Mag, and Highsnobiety.